Geological Survey of India launched a long term national programme of geochemical mapping commencing F.S. (Field Season) 2001-02, with the aim to cover the entire land mass of India (3,268,090 sq. km) by collecting and analyzing stream sediments at 1 sq. km grid. This programme, launched at the beginning of the 10th plan, is likely to continue through several plan periods and generate a baseline geochemical data' of the country, which will have a great societal significance. This data will not only provide information on new mineral potentiality in the soil and alluvium covered terrain of the country but also indicate ambient conditions of macro- and micro-nutrients' availability for agriculture and also indicate areas of high toxicity for the erring group of elements like Hg, Cd, As, F etc. This database has a great importance since a large number of elements (68 elements) are being measured in the stream sediment samples at an utmost precision level of international acceptability.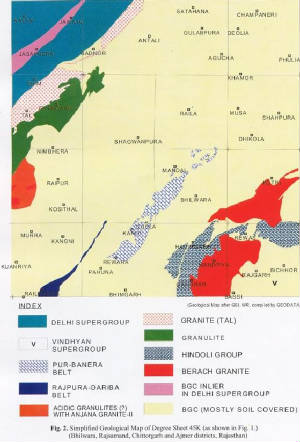 The Geological Survey of India, Western Region is in the forefront of this national programme and has already covered 14,700 sq km area of Rajasthan by geochemical mapping under the NGCM programme, till F.S. season 2006-07. This coverage was achieved in five years by deploying 8 geologists in each field season. Despite comparatively good progress at the Regional level, it was felt that the speed of work was slow and adequate information or help was not forthcoming by way of identifying new areas for exploration of base metal, gold and other economic minerals. This prompted the Region to experiment with a variation in the sampling design of the standard NGCM programme so that larger area coverage can be achieved in a reasonably short period without compromising the results. With all resources thrown in, this experimental work could be achieved in short time and an interim report with 27 element analysis could be submitted in four months time, (i.e., by March, 2007).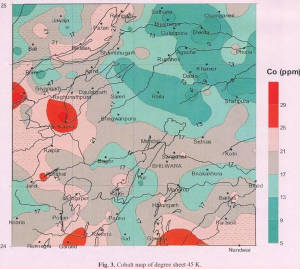 The samples were analysed on priority at the Western Region Chemical laboratory by XRF and AAS methods for 27 elements. The concept as well as the execution of this programme was enacted by D.J. Dasgupta, Director, Project Geochemical Mapping, Operation Rajasthan with technical and administrative endorsement of the Dy. Director General, Western Region.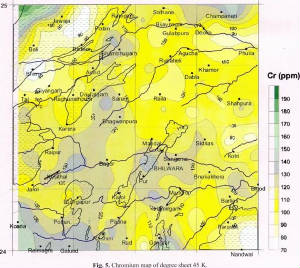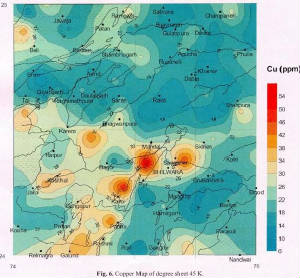 Looking at the accelerated speed of work (due to lower intensity of sample generation, i.e., 1/80th of standard NGCM programme) and advantages of larger area coverage (16 times more than the area coverage in the same time period by routine NGCM programme), the over bank sampling method has a definite time and money advantage. Not only it can provide the first generation geochemical maps rapidly, but can also act as an area selection criterion for various purposes, including prioritizing the areas for NGCM type of geochemical mapping. The map products of 45K, which have been generated from over bank sampling and selected for this write-up (Fig. 3 to 6) very clearly bring out the importance of a geochemical map. The importance of this type of geochemical map is further enhanced if the same can be made available to the nation in the shortest possible time.
D.J.Dasgupta,
Director
Project: Geochemical Mapping, GSI, On. Rajasthan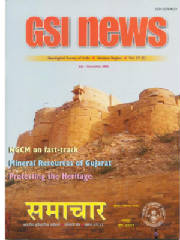 Notwithstanding the usefulness of the programme, Geological Survey of India could achieve very little by the end the 10th plan period in terms of national area coverage. Out of a total of 2 million sq. km identified initially for the National Geochemical Mapping (NGCM) programme, mainly covering the peninsular part and the Indo-Gangetic alluvium of the country, a mere 1 lakh sq. km area has been covered in five years. The problem of low pace of area coverage is due to limitations in the availability of adequate manpower for sampling and for the analytical laboratories in the department. This situation may not improve during the 11th plan period and alternate means of accelerated area coverage may have to be found. One of the view-points is to augment the manpower by involving other Central and State Government agencies in the programme or alternatively, invoking radical changes in the geochemical sampling design. This particular write up makes an emphatic point on the second option by carrying out pilot study in a part of Rajasthan (degree sheet 45K) and display some of the map products for considered evaluation for efficacy of the methodology and results.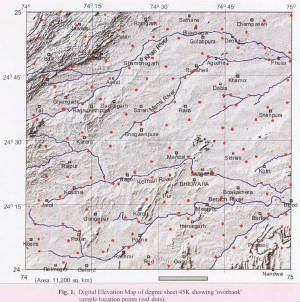 During this time, the officers of Project Geochemical Mapping, Operation Rajasthan, viz., Sarvashree S.K. Dash, A. Chishti, B. Behera, S. Banerjee, Pawan Kumar, Dinesh Kumar, Sanjay Singh and Ms Archana Sharma did a commendable work by completing the 'overbank' (geochemical) sampling of one degree sheet (45K) covering parts of the districts of Bhilwara, Rajsamand, Chittorgarh and Ajmer. A total of 12,200 sq. km area, (Fig.1. & 2.) was covered in this experimental programme with collection of 'overbank' samples from 144 carefully selected sample location points. The entire sample collection work for this programme was done as an additional work and conducted before commencement of the regular NGCM programme.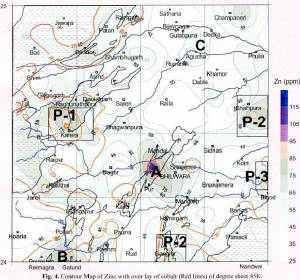 Whereas the routine. NGCM programme envisages collection of stream sediments in small streams restricted to 1 sq. km area basin. the present method invokes an 'over bank' sample generation concept from basin areas as large as 80 to 100 sq. km. The 'over bank' samples are usually produced in greater than 3rd order streams during large scale discharge of water charged with sediments. A section through the 'overbank' sediments represents a sedimentation history over a longer period of geological time and the finer fractions in the layered sequence of overbank carry signature from farthest point in the basin. The sample collection in this method is therefore restricted to the finer fraction of various sedimentary cycles in an 'overbank' section at a carefully selected sampling point.
The geochemical maps generated from this type of sampling technique depict very
broad regional information in comparison to the NGCM map of 1 sq. km sampling grid. This, however, is not a hindrance in locating anomalous zones of target group of elements like those belonging to the chalcophile cluster of copper, lead and zinc or other elements of economic importance. Also, the anomalous distribution of environmentally harmful elements as well as elements falling in macro- and micro- nutrient category for agriculture can be broadly indicated and smaller areas can be selected for detailed study.